Related sites


Our parent company
MORE ABOUT SILOWEIGH.NET
SiloWeigh.Net is an inventory management and control system that allows an organization to monitor the weight of material in vessels located across a very wide area. The information can be used to predict when deliveries will be necessary, even if the user is not aware of it, and allow appropriate action to be taken. For example, deliveries for the next day can be scheduled rather than reacting to urgent phone calls.

The remote units, based on the well proven SiloWeigh system and Silex strain gauge sensors, measure the weight in vessels and make the results visible throughout a company's network using Internet browser software. It also transmits the actual quantities at no cost over the internet or, when Internet is not available, the cellular radio network, to the SiloWeigh.Net server. The readings are stored in an SQL database, allowing data retrieval via a secure Internet site as well as connection to company databases of customers, products, orders etc. Applications:
| | |
| --- | --- |
| | Suppliers who wish to improve dispatching efficiency and customer satisfaction. |
| | Production plants that cannot afford to run out of raw materials. |
| | Inventory monitoring of outlying plants. |
| | Refill measurement and fraud detection. |
| | Unmanned reporting from remote sites |
Features/benefits:
| | |
| --- | --- |
| | Monitor an unlimited number of vessels. |
| | Easy installation and setup. |
| | Industry standard networking: tcp/ip, dialup, lan, wan. |
| | Browser based. no extra software required. |
| | Local monitoring and alarms available. |
| | History tracking. |
| | Industry standard SQL database. |
| | Accessible by Internet with secure password. |
| | Can connect to individual company databases for inventory and shipment dispatching. |
| | SMS text and Email alerts. |
DATA ACQUISITION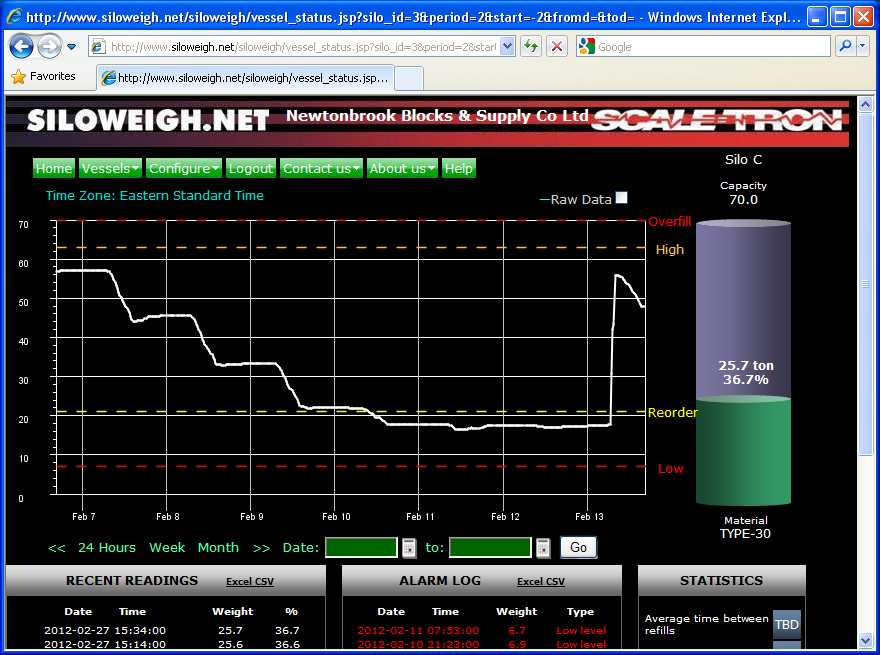 Up to 32 vessels in a single location can be connected, via digital transmitters on each vessel and single cable or radio link, to the data acquisition module, DAQ, which resides inside the SiloWeigh.Net system cabinet. The module records weight data at programmable intervals from 2 minutes to 8 hours, storing readings for an extended period in non-volatile on-board memory. Also stored are 4 setpoints: emergency low, normal refill level, high level and refill emergency shutdown; an optional I/O rack allows alarm lamps, buzzers or pinch-off valves to be activated. The DAQ module is connected by the local area network to a separate computer or embedded PC, chosen to be the Local Server. This computer acts as a web server and local database, allowing other computers on a local area network to access the system through a web browser. The advantage in this method is the ability to view these displays throughout the company without any special software.
The local server transmits its data to the SiloWeigh.Net Internet Database server when requested. In this way, deliveries can be scheduled before the vessel is empty. It can also be possible to notify a truck filling the vessel that the emergency high level has been exceeded, shutting down the filling operation before the filters are blown out. If the Internet database is off-line, unsent readings are stored and transmitted when it comes back on line. Optionally, the system can recognize when a gain in weight is detected, enabling the supplier to identify filling from either its own or a competitor's truck.
CELLULAR MODEM
When a local Internet connection is not available, the Cellular Modem delivers reliable digital data communication virtually anywhere in the world.
INTERNET DATABASE SERVER
Web based server - Many users can benefit from a standard database residing on Scale-Tron's server. The client's database is accessible by any web browser (via passwords to ensure total security), enabling the client (e.g. cement company) to see all customers' vessel levels and dispatch deliveries accordingly. End users can see their own vessels' status and order directly on-line. Database system maintenance is carried out by Scale-Tron.
Suitable for clients not wishing to tie up their IT staff or without in-house IT resources.
User-based server - User creates database based on specific needs of the business but including all plants with SiloWeigh.Net installed. Scale-Tron provides web-based database of vessel data on the SiloWeigh.Net server that can be accessed by the customer, combining data from the two sources. User maintains his own database system while Scale-Tron maintains web based database.
Suitable for large clients with resident IT staff.
SiloWeigh.Net Specifications
Plant data acquisition system - 32 digital vessel transmitter inputs per DAQ, allowing any combination of regular and divided vessels to be monitored simultaneously.
DAQ Data outputs - one Ethernet port, one RS485 serial port.
Local indication - digital display of weight in several choices of units (tons, gallons, liters etc.) for each vessel via PC computer-based browser connected to the Ethernet port.
Remote data transmission - over plant data network and Internet to SiloWeigh.Net server. If plant network not available, over cellular modem to server.
Alarms - up to 24 Opto-22 solid state input/output relays, any voltage AC or DC, by choice of appropriate modules. Alarms can be programmed to be "or'ed" to a single output for sounding an audible alarm, individually enabled for status lamps or as inputs to cancel audible alarms and master reset. Alternatively, inputs can be connected to overpressure switches to give "soft alarm" of impending filter blockages.